Create a spooky Halloween wreath with twigs and branches.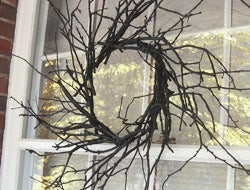 Make your own Halloween wreath using twigs and branches from your garden. Start by gathering your materials. Twigs and branches should be dry. Remove any extra leaves. Look for branches with curves or twists to create the best shape. You'll also need wire (floral wire works well), garden clippers, needle nose pliers, a paper plate, hot glue gun and flat black spray paint.
Arrange the twigs and branches around the paper plate (using it as a guide). Bunch branches together and secure with wire to create a circle. Clip any unwanted twigs. Add more wire or hot glue to reinforce your connections. Cover the wire with smaller twigs. Don't worry about perfection. This wreath is meant to rustic.
Once the glue has set, spray paint the front and back, let dry and hang. Make your wreath more eerie with spiders and webs. Or add fall leaves for a splash of color.
Have fun growing Grass Heads.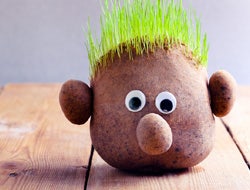 Here's a fun gardening project for the kids. Start by cutting the feet off a pair of stockings, just above the ankle. Fill the stocking with grass seeds and potting soil until it's the size of tennis ball and tie off the stocking. Make ears or a nose by pinching areas and securing them with rubber bands. Add googly eyes, a pipe cleaner mustache or other decorations to your head. Fill a plastic cup with water and place your grass head on top, so the stocking tail dangles into the water. Put it in a sunny spot like a windowsill, give it a little squirt of water each day using a spray bottle, and watch it grow. You may even have to use scissors to give your grass head a haircut!
Use a toothpick to temporarily plug up a small leak.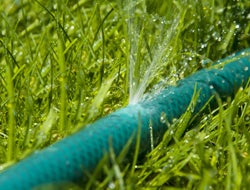 If you have a small leak in your garden hose, get a wooden toothpick and insert it into the hole. The water causes the wood to expand and will temporarily plug the hole. Break off the part sticking out of the hose, and voila! No more leak.
Want hotter peppers? Stress your plant.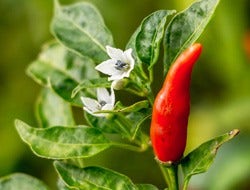 If you want a little more kick from your peppers, hold back the water. Wait until the plant begins to wilt, then give it a deep soaking. The added stress builds up the capsaicin inside the peppers. More capsaicin means more heat. Enjoy!
Make straight line borders for your flower bed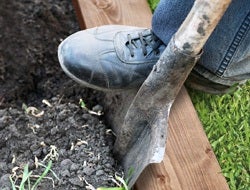 A garden hose makes a great guide for laying out curved beds, but what if you want straight border? A wood board makes the perfect guide for a crisp, clean edge for those straight runs. Line up your shovel along the side (away from the lawn) and cut straight down. Travel along the board and move it as needed. The longer the board, the less moving you'll have to do.
Create mini greenhouses for your seedlings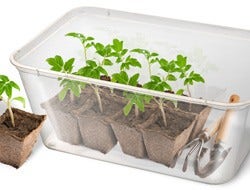 Those vegetable seedlings you started indoors? It's almost time to harden them off by taking them outside. Clear totes not only make your seedlings easy to carry, but can also act as mini greenhouses if temperatures are still chilly. Just leave the lid on the tote and let your seedlings get some sunshine without getting cold. Or vent the lid for a little more fresh air. Remember, totes with handles are easier to carry!
Create ice candles.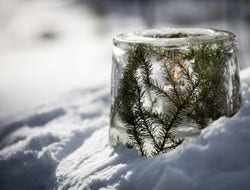 Those vegetable seedlings you started indoors? It's almost time to harden them off by taking them outside. Clear totes not only make your seedlings easy to carry, but can also act as mini greenhouses if temperatures are still chilly. Just leave the lid on the tote and let your seedlings get some sunshine without getting cold. Or vent the lid for a little more fresh air. Remember, totes with handles are easier to carry!Select 2 sizes of containers (one should fit loosely inside the other). Partially fill the larger container with water and place the smaller container inside. Use tape to keep it centered, and rocks to keep it from floating. Insert greenery such as pine or spruce or berries such as holly or mistletoe between the two containers. Leaving berries on a sprig will help keep them from floating. Freeze. Remove containers (may need to run under cold water to get them to release. Add a candle for a festive outdoor decoration. The colder is it outside, the longer they'll last.
Surprising seed balls.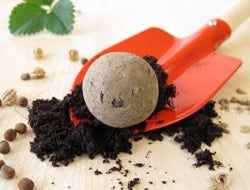 Looking for bursts of flowers in the coming spring? Homemade seed balls offer something special. Start with 2 parts potting soil, 5 parts pottery clay mix (from your local art store), 1-2 parts water and 1-2 parts of your favorite flower seeds. In a large tub, mix the soil, clay and 1 part water. Add water slowly until there are no lumps. Add seeds and knead them into your mixture. Add clay as you roll the mix into balls. If they're crumbly, add more water. Dry your seed balls in a cardboard box for 1-2 days. Then toss them into your garden – don't bury them or water them. Mother Nature will do the rest.
Keep outdoor cords out of the weather.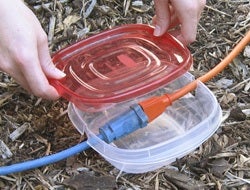 Putting up outdoor decorations? Keep winter weather such as snow and rain away from attached cords by notching out a plastic food container and snapping on the lid. Dry cords prevents short circuits and there's nothing worse than having decorations that don't work!
Make a decorative bowl using Fall leaves, decoupage and a balloon.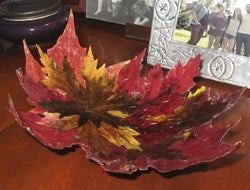 Select your leaves. Remember, fresher leaves are more pliable. Inflate a balloon. Putting the balloon in a bowl helps stabilize it. Apply your favorite decoupage mixture (from your local craft store) to leaves and wrap them over the top of the balloon to form an upside down "bowl." Layer on more leaves for a more solid bowl, or leave space for an airy look. Apply decoupage over the top and let it dry. Once dry, pop the balloon and trim off excess
Transform your ferns into frighteningly fun ghouls.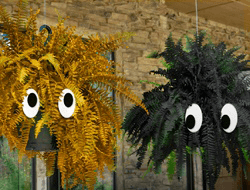 Your old ferns can become unique Halloween decorations. Simply spray old leaves with spray paint. Choose your color or colors wisely for maximum impact. Then attach googly eyes with a little glue or double-sided tape, or use dry erase markers to draw eyes right onto your planter. Be sure to test markers on your planter to make sure they wipe off. Halloween isn't all about pumpkins. Get your kids and get creative.
Tired of planting and replanting annuals?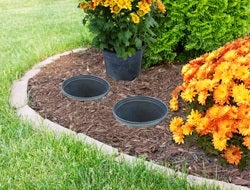 "Planting" nursery pots in your flower bed instead! Start with plastic nursery-style pots (make sure they have drainage holes). Dig holes and bury the pots. Now you can "plant" flowers without even removing them from their container (again, make sure these containers drain). When it's time to switch to spring flowers, simply remove the flowers and replace with new ones.
Looking for a summer project with a little sparkle?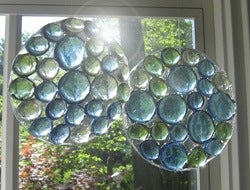 Create your own sun catcher. Start with glass pebbles, clear craft glue and a plastic lid. Pour some glue into your lid and arrange your pebbles. The design is up to you. Then pour more glue over the top, filling in gaps between pebbles. Now it requires some patience. Set it aside for 5-7 days to let the glue dry (the longer you wait, the harder the glue becomes). Once it's dry, carefully peel back your lid to release the glass. Add some string or fishing line and hang in a sunny spot. Remember, the glue is water-soluble, so hang it out of the weather.
Create custom stamps using your own garden plants.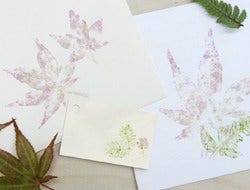 Use fresh leaves from your garden plants to customize your own stationary, gift tags or homemade cards. Pick a leaf with a good, airy pattern, i.e. Astilbe, Fern, Japanese Maple, etc. Position your leaf on textured paper and cover with a paper towel. (For best results, do not use copier paper.) Gently tap the leaf with a hammer until the chlorophyll shows through the paper towel. The leaf's pigment should be on your paper. Peel away the paper towel and leaf, then set aside to air dry. Different leaves will provide different colors and patterns. Try a variety and see which ones you like best.
Create a fantasy garden with ground covers & succulents.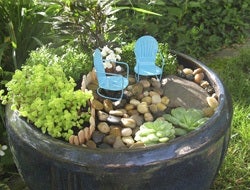 Transform an ordinary pot into a fantasy garden. Start with ground covers, succulents and stones from your local nursery. Then add in popsicle sticks and miniature accents available at your favorite hobby store. The options, and stories that go along with them, are up to your imagination
Wash Station.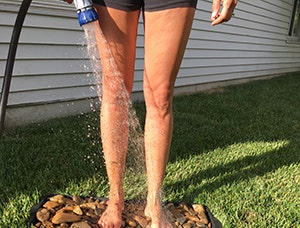 If you have kids or like going barefoot, you probably could use your very own foot washing station. First, drill or poke a few holes in the boot tray so water drains out. Then fill the tray with smooth pebbles and place the tray near a hose. Stand on the pebbles and spray – then watch unwanted dirt and grass disappear down between the pebbles. It works for shoes and work boots too. Just don't forget to clean out the tray occasionally.
Get a grip on your tools.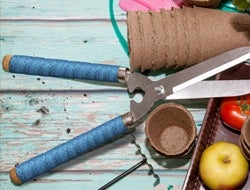 Use bicycle handlebar tape to wrap long-handled tools like shovels, rakes and shears. Start at the end of the handle and wrap the tape around itself 2-3 times to secure. Continue wrapping the handle, overlapping the tape about 1/2" until you reach the desired coverage. Secure the end with fabric tape. Not only does it look great, it makes them easier to hold onto, especially on a hot day.
Get a little soap under your nails.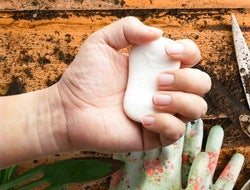 Before you go out to garden, scrape your fingernails along a bar of soap. The soap fills in the gaps to help keep dirt from getting under your nails. Plus, having a little extra soap helps when it's time to wash up.
Create a portable milk crate garden.
Now you can garden without the yard! Start with a milk crate. Measure to determine the liner size you'll need. (Pre-sized liners are available online or use weed barrier fabric and industrial staples to make your own). Add soil and your favorite edibles, plants or flowers. The handles make your garden easy to carry, and the small size is ideal for a balcony, back porch or rooftop. It's portable, small-spaced gardening at its finest.Gardencultturemagazine.com
No windowsill? No problem.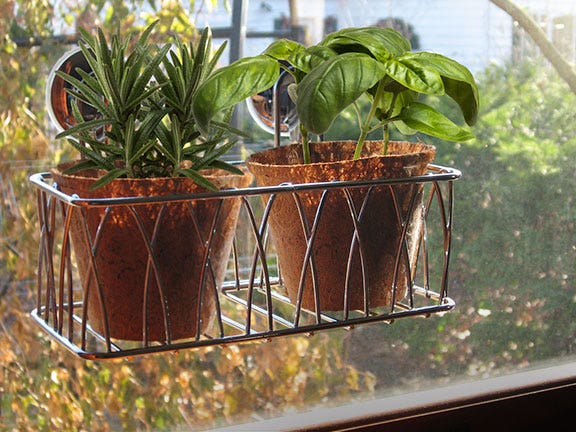 Use a bath shelf or tray to grow plants right on the glass. Apply the suction cups to a sunny window and hang your shelf. Then add some small pots filled with your favorite seeds, herbs or other plants. Add a little water and a lot of sun and watch them grow. It's a great way to green up any window.
Seedlings that water themselves.
Cut your plastic bottles in half. Flip the top half upside down and poke a hole in the cap. Thread a piece of clothesline or rope though the hole. It needs to be thick enough to absorb water. Leave plenty of string on both sides of the cap. Add soil to the top, coiling the string into the soil as you go. Pour water into the bottom half of the bottle, and place the top half inside. Plant your seeds and gently water from the top down to get things started. Your clothesline will soak up water from below and distribute it to the soil above. Simply add water to the bottom when low.
Mini Greenhouse.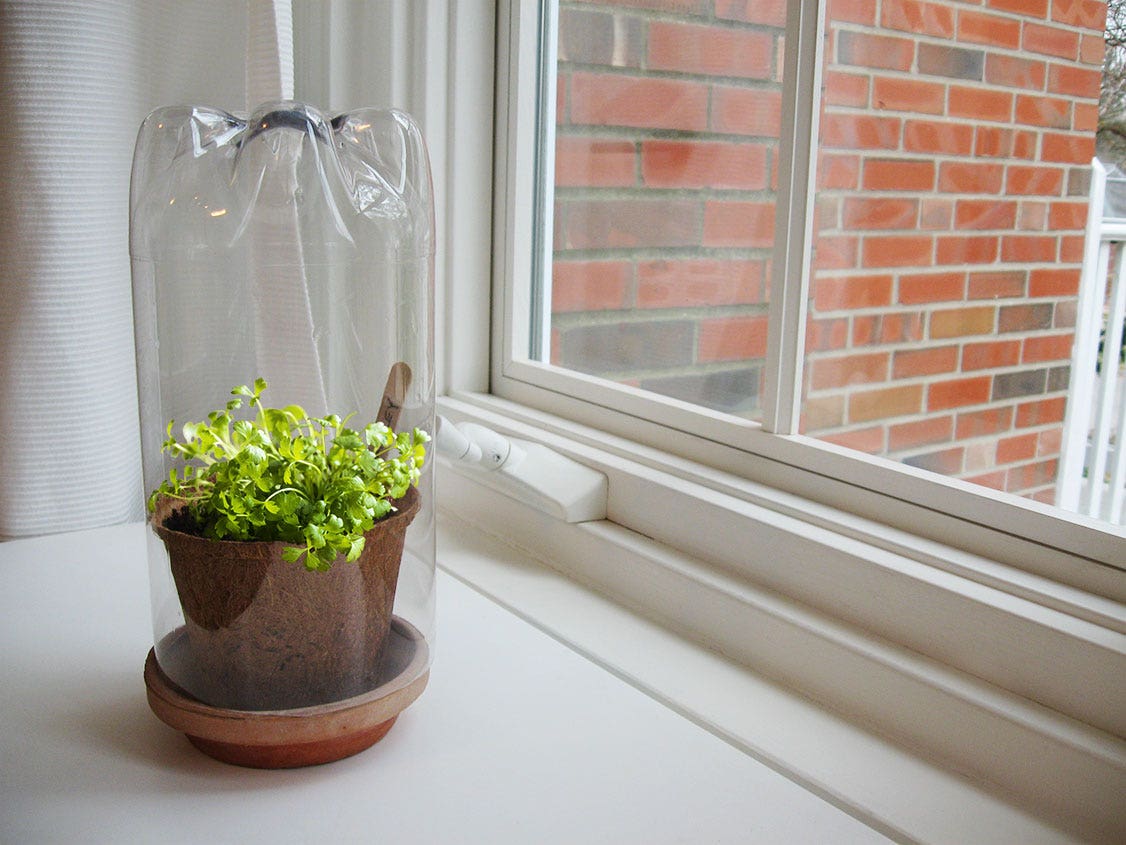 Clean, then cut a soda bottle in half. Drill or poke holes in the bottom and use it to cover your seedling. Voilà! Instant humidity.
Start Seedlings.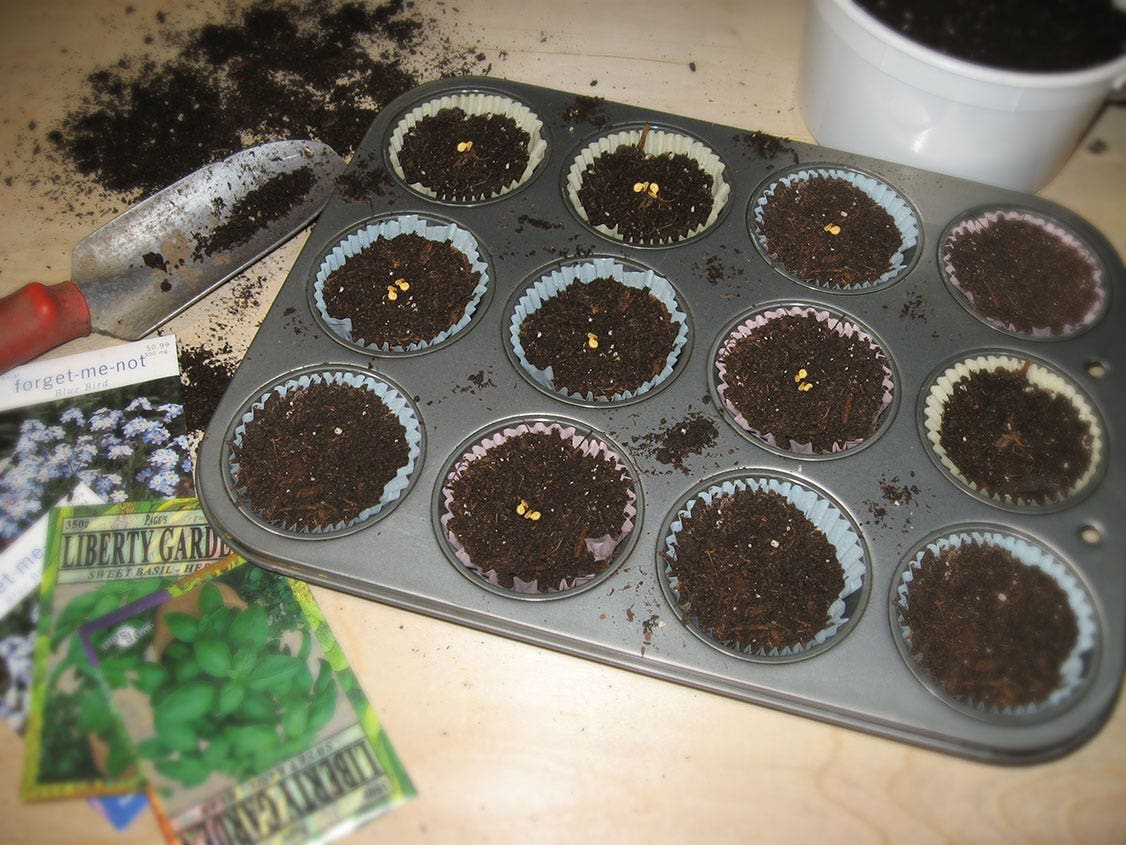 Cupcake papers make perfect holders for soil and seedlings. And when it's time to transfer, they can go straight into the ground. The papers decompose as your plants grow. (Do not use foil-lined papers.)
Pine Cone Bird Treats.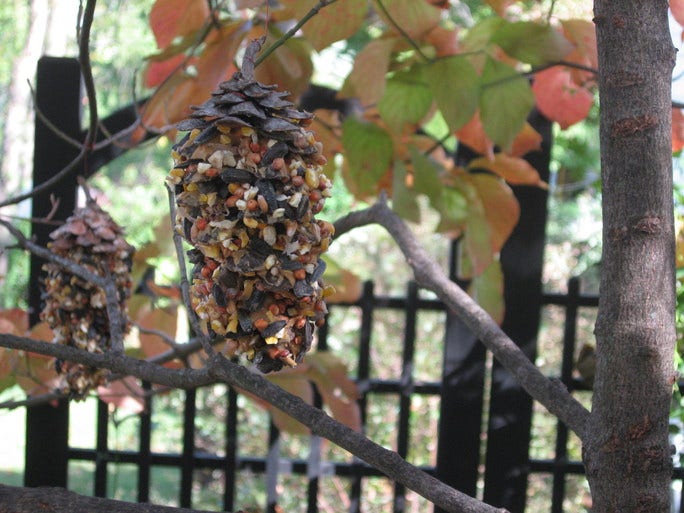 Spread peanut butter over pine cones, roll in bird seed and hang using wire or twine. Birds will flock to your yard!
Spooky pumpkin spiders.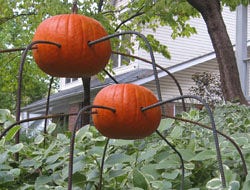 Create spooky spiders using pumpkins and rebar. Remove the pulp from small to medium pumpkins and drill holes in the sides to match the diameter of your "legs." Bend the rebar and insert into the sides of the pumpkin. Depending on the weather and other factors, your spider pumpkins will last approximately 5-10 days before showing signs of decline.
Keep your tools in tip-top shape.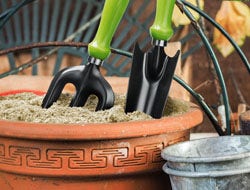 Store small garden tools in a pot or bucket of sand mixed with mineral oil to keep them clean, dry and free of rust and other corrosion.
Have a ball with outdoor lighting.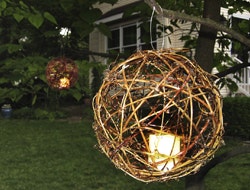 Lighting is an easy way to add fun and ambiance to your yard. Find a grapevine ball at your local hobby or craft store. Put a flameless candle inside and hang from your tree. It's that easy!
Hang out with your garden gloves.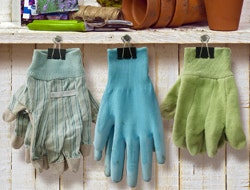 Garden gloves are like socks – sometimes they go missing. It's time to take a cue from your organized office friends. Gather up a few binder clips and then h ang them from nails. You can then clip your garden and work gloves to keep them organized and ready to go for the next job.
Create magical summer lighting.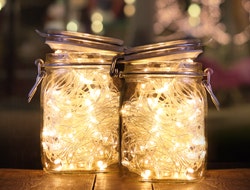 Mason jars have so many uses and we really love this one. Create the perfect ambiance for your next gathering by putting battery-powered fairy lights in various sized mason jars. Just tape the small battery to the top of the Mason jar lid, flip the switch and you're ready to go.
Give your garden hose some guidance.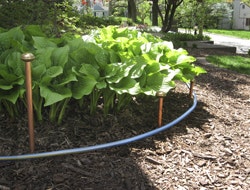 Dragging the garden hose around the yard can be a chore, especially when you're taking out half your plants as you do it. Protect your plants with this great DIY hose guide. Pick up sections of 1/4 to 1/2-inch copper pipe. Find some doorknobs to put on top and you have the perfect hose guide.
Fine dining for feathered friends.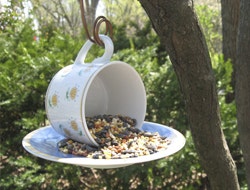 Do you have mismatched cups and saucers or a set you don't know what to do with? Mismatched or not, a cup and saucer is the perfect match and DIY bird feeder for your feathered friends. All you need is a cup and saucer, all-weather glue and wire and you're good to go.
Uncork perfect planting holes.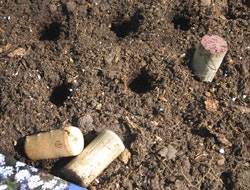 Don't throw those wine corks away! Use them to make perfectly shaped planting holes in your garden. Just push in the soil, fill with seed, cover and make the next perfect hole. Don't have wine corks? Ask your friends to save a couple for you.
Make a hummingbird hot spot.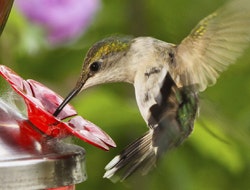 Hummingbirds get the energy they need from flower nectar and he sugar water they find in feeders. Here's a super easy nectar recipe you can make: Mix together ¼ cup refined white sugar and 1 cup water. Bring to a boil, remove from heat. Cool and place in feeder. You can keep the nectar in the fridge up to 5 days.
Preserve your herbs.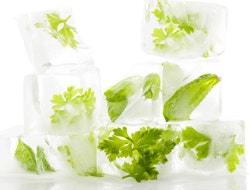 Do you have extra herbs? You can preserve them by freezing them into ice cubes. Pick up some inexpensive, plastic ice cube trays. Place the chopped herbs in the tray and top the wells with neutral oil like canola or light olive oil. Freeze. Now you can enjoy the fresh flavors all season long.
Got milk crate?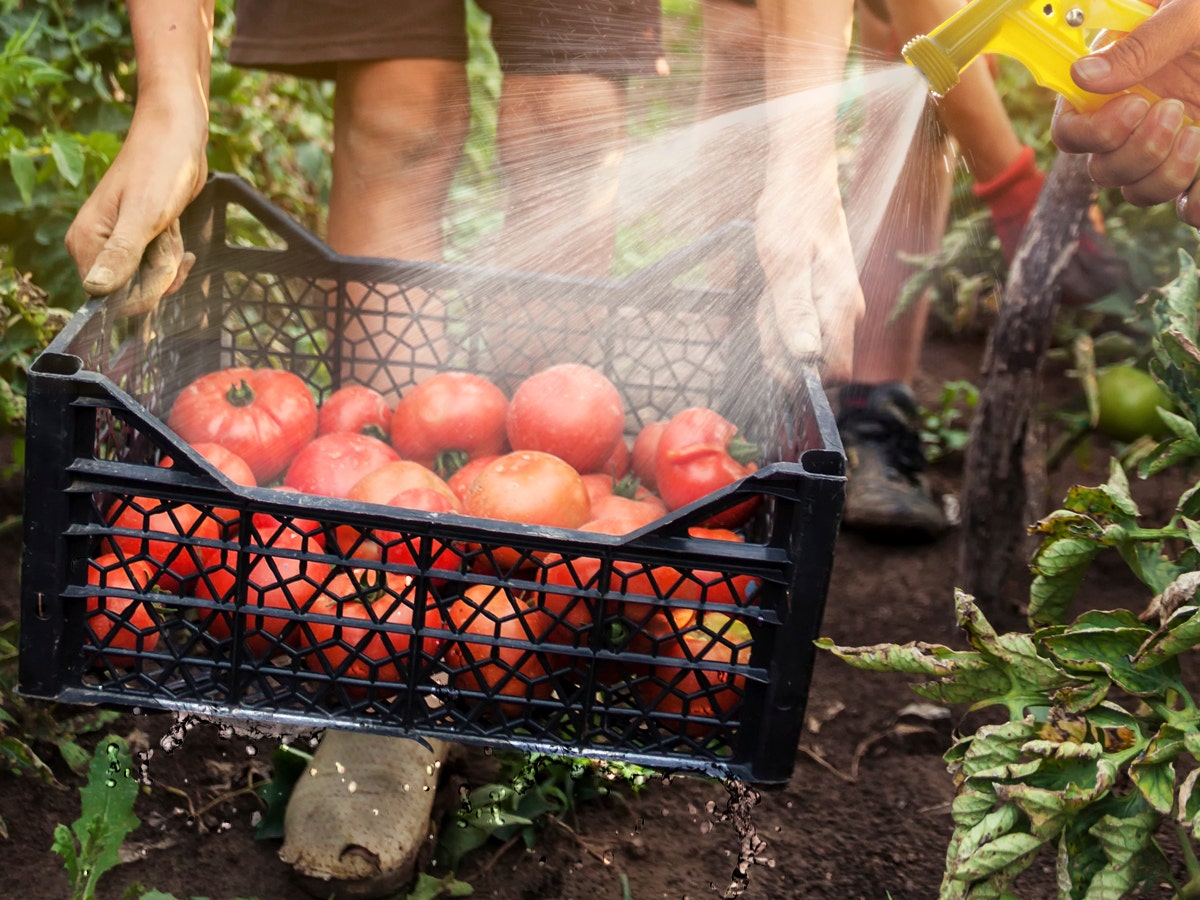 Milk crates have a ton of great uses; here are two of our favorites. You can use a milk crate with a grid bottom to sift your soil. It also doubles as a veggie washer. Place your fresh-picked garden veggies in the crate and hose them off before bringing them inside.
Turn toilet paper tubes into planters.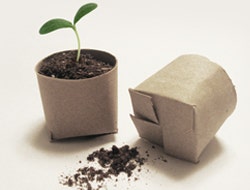 Just because you're at the end of your toilet paper roll doesn't mean that's the end of the cardboard tube inside. Use the small tubes to create biodegradable seedling planters. Just fold one end in and voilà!
Popsicle stick plant markers.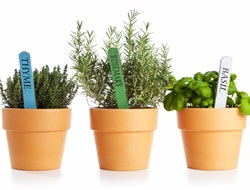 Once you've finished that final lick on that Popsicle, don't throw the stick away. Recycle and use it as simple plant marker. There's plenty of space to write what type of plant it is and it adds a little fun to your potted plant display.
Painted pails.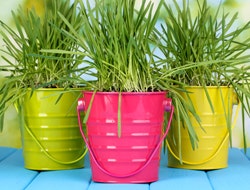 Want to add some color to your garden or potted plants? It's easy. Pick up small pails or pots and spray paint with your favorite color. You can add even more fun by painting different designs and shapes.
Watering can fun.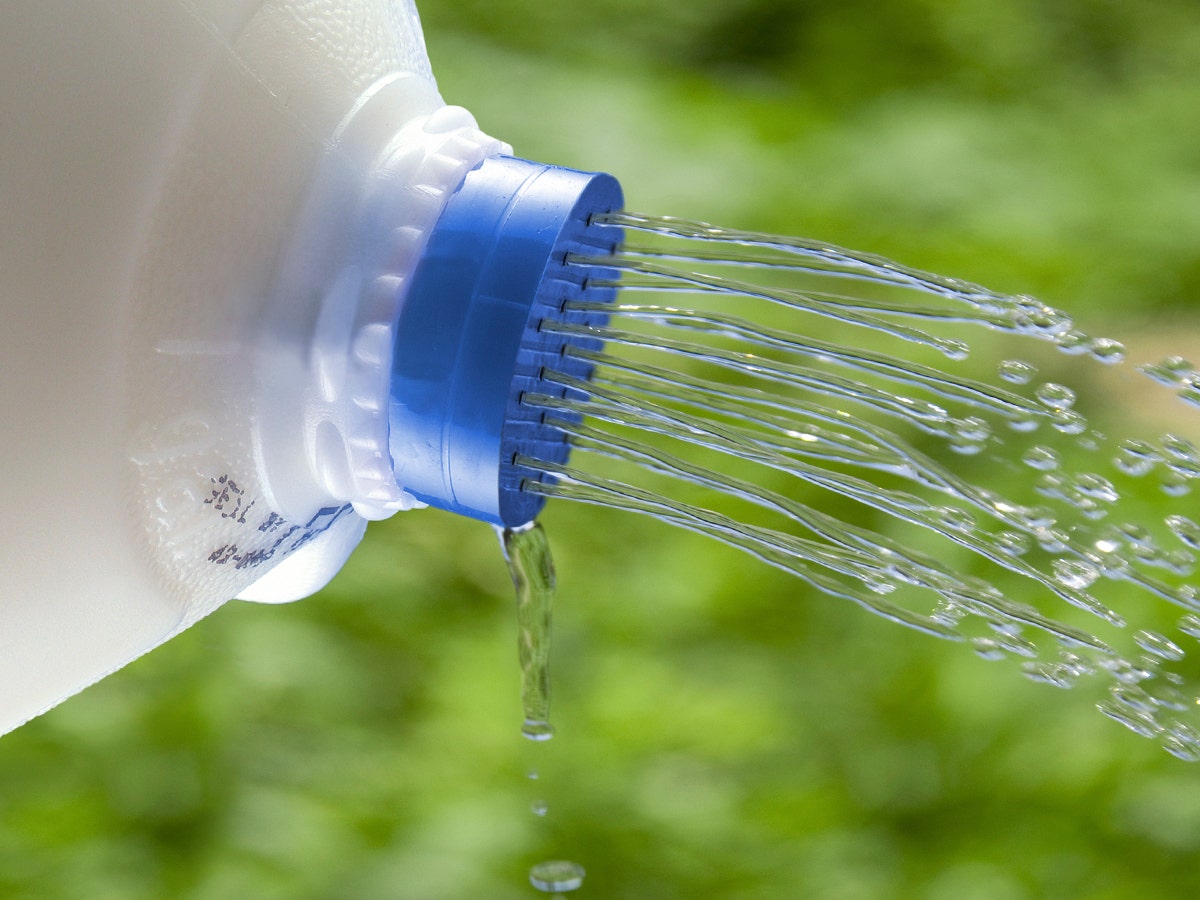 Turn a plastic milk jug into a simple watering can by poking holes in the lid. Presto, you have a DIY watering can for your garden!
Ladder up!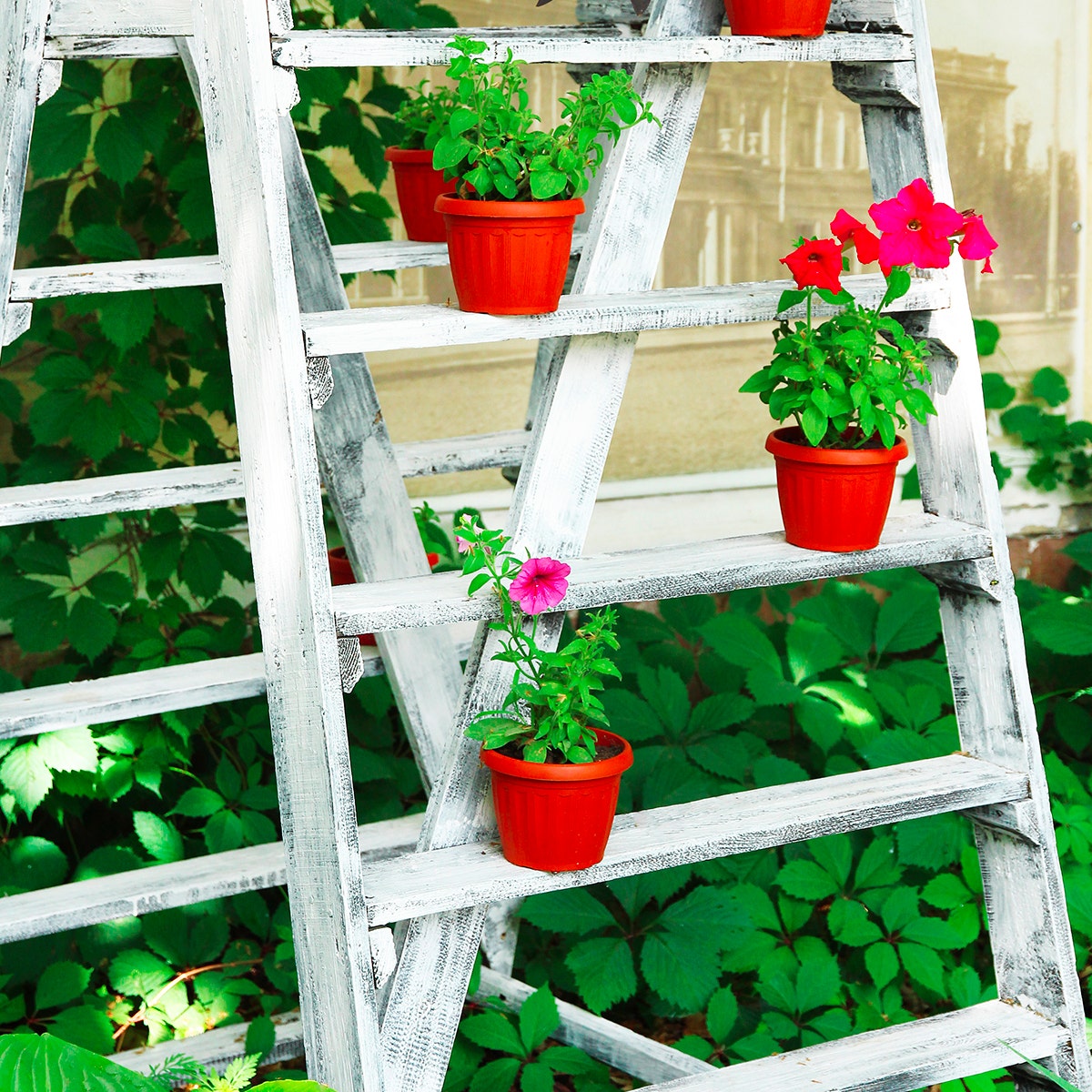 Give your plants a new place to hang out by using a ladder as a plant stand. You can also add wooden shelves for even more display space. If you don't need that much display space, use a small step stool or regular stool.
Vintage glass garden stakes.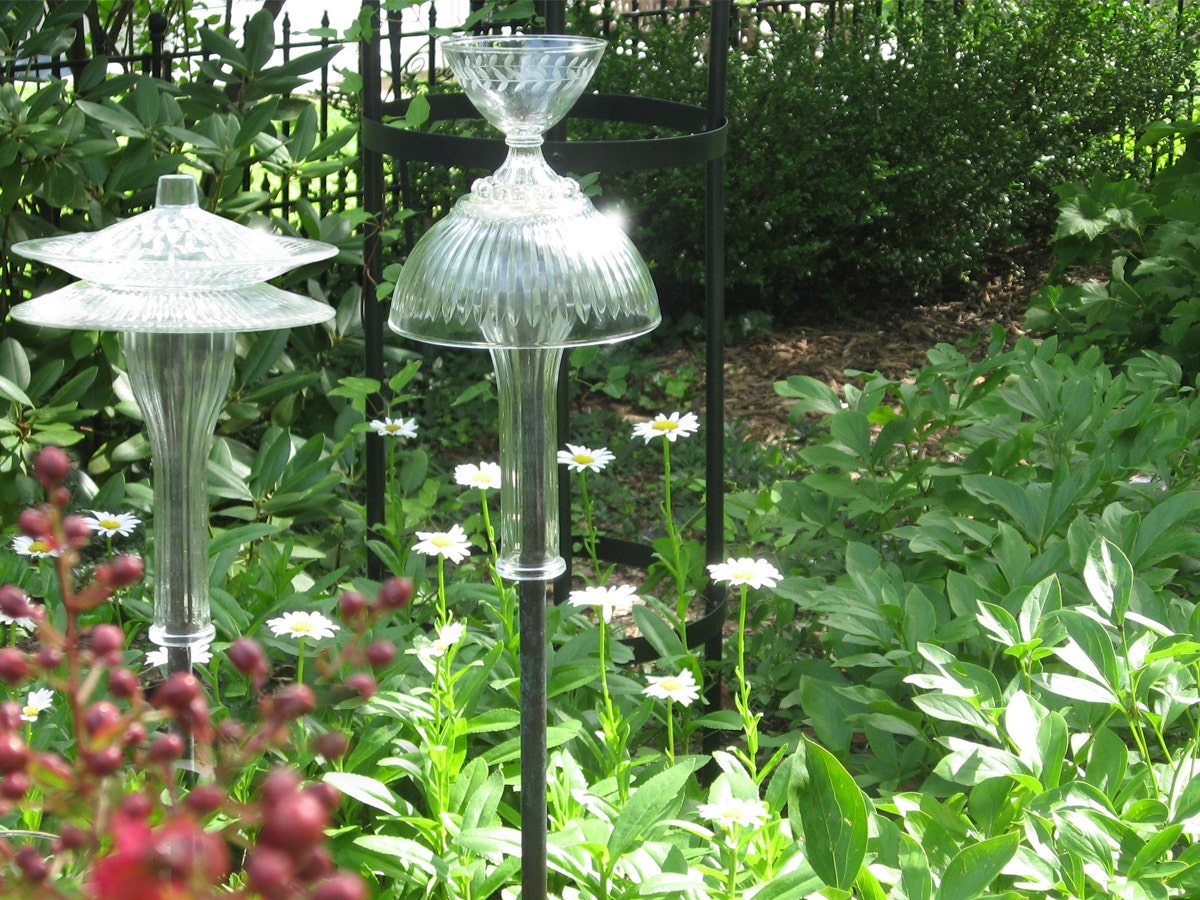 Create garden stakes using vintage glass vases, plates, bowls and dishes. Turn a bud vase upside down & slip it on top of a wood dowel rod or copper pipe. Then use exterior glue to add the remaining pieces to the vase to complete your garden stake.
Planter bling.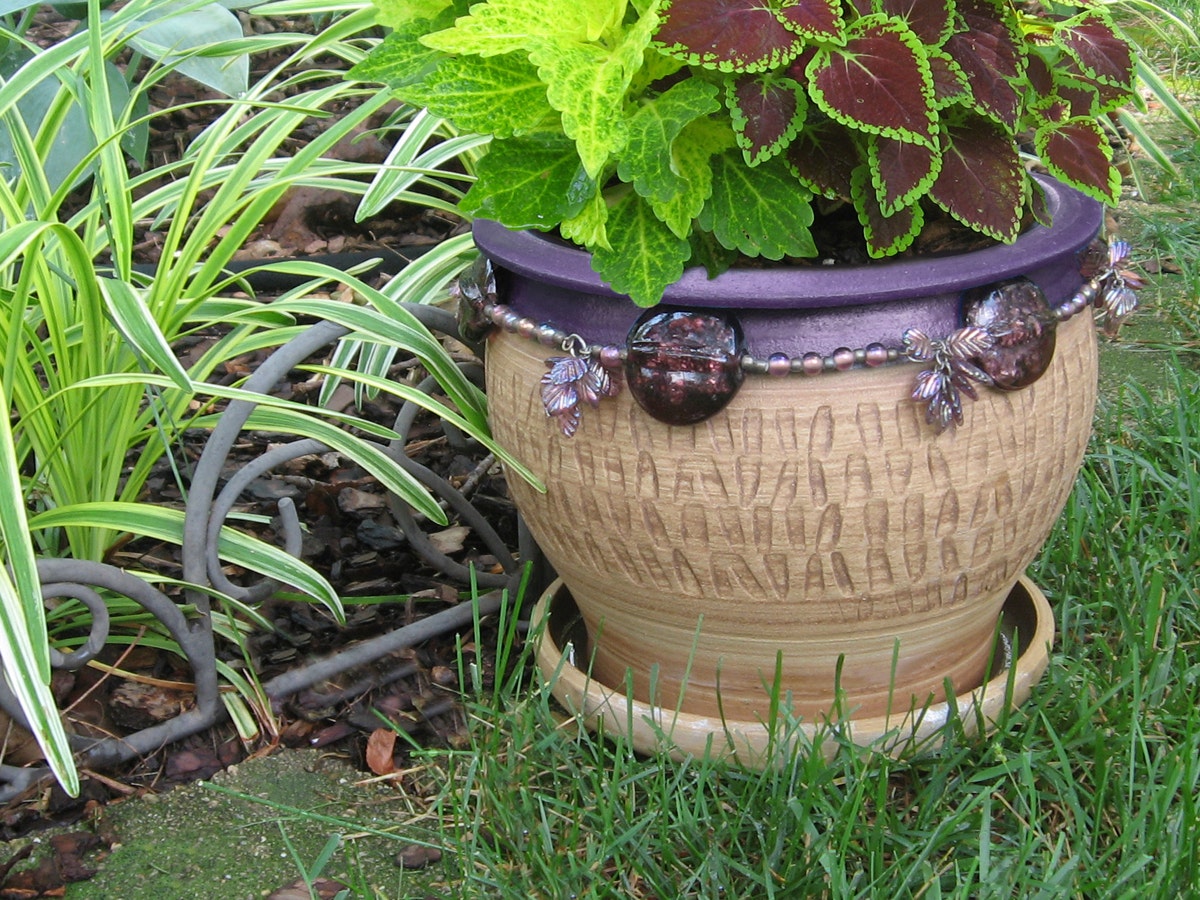 Recycle old jewelry and beads to create unique ornaments for your pots. Thread beads and trinkets onto a wire and wrap it around the top of the pot to create one-of-a-kind garden art!